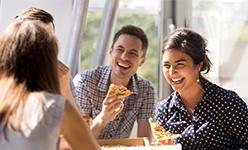 Hearing Loss
4 Ways That Healthy Hearing Can Improve Your Mental Health
The ability to hear is an essential part of human relationships, perfect well-being and positive mental health. But the difficulties in Hearing will lead to social isolation and depression and lots of difficulties both mental health and Physical Health.
Here are four ways to improve your mental health by getting healthy:
1. Increases social interaction- People who can be heard well have a healthy social life. Being able to hear clearly always encourages a person to have better social interaction. Those who preserve their hearing safety are more likely to enjoy life better.
2. Greater interpersonal relationships- It is shown that those with good hearing are more emotional warmth in relationships and dealt with less negative relationships with family and friends Better hearing always helps a person in building up better interpersonal skills.
3. Increased confidence- It is observed that there are increased confidence levels in the people who maintain their hearing health well. People feel more confident in the community and less concerned about the hearing stigma, that they are wearing hearing aids as there will be no need for them to pretend to understand the conversations, or trying to understand the lip -reading or to become defensive for the words which are not clearly heard.
4. Increases wellbeing of the emotions.
It is a known fact that our emotions are the reactions of our brain cells. A person with better Hearing Health / better usage of hearing aids will improve the wellbeing of the person and decreases the well-being by increasing tiredness, irritability, tension, and loneliness.
Better hearing health will always make life better. Any issues related to hearing can be assisted well only with the help of Experienced Audiologists. In the first stage you have to first understand whether you have a hearing problem or not.
Thanks to the technology now you can get tested and understand your hearing condition right at your home. You just need to download the HEARZAP from Google play store an App store and can assess your self a preliminary hearing test. HEARZAP will also help you to avail home visits by the experienced audiologist and also get a hearing aid trial or other assistance related hearing aid. Always get the best hearing care for you.